Steam is a game library application which allows you to activate and access game purchases. If you buy a Steam code from us, you will need this software in order to activate your purchase and play. Please note that Steam is a third-party application, and we have no direct access to their systems, including your account. Here are a few tips for common issues installing Steam. You may also wish to reference Steam's official support site: http://www.help.steampowered.com
I'm on a Mac and getting an error that the installer package is damaged.
Due to some issues between current Mac OS security settings and third-party installers, you may see an error message when you try to double-click "Steam.dmg" to open the installer after downloading from the Steam website. Do note you should always be cautious installing applications on your computer and ensure that you have downloaded from a reliable source (e.g., directly from http://store.steampowered.com). However, in this case the installer is not damaged, and the Steam application is not malicious or harmful to your computer.
If you experience this issue, you should be able to solve the problem by right-clicking (or control-clicking) on Steam.dmg and selecting "Open". The installer should now open normally.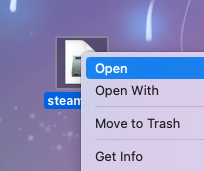 I'm trying to set up or access my Steam account, and the CAPTCHA isn't working.
We do understand how frustrating Captcha can be, and we're sure you're not a robot! If you are experiencing a glitch with the CAPTCHA,

If available, try the sound Captcha option (it should look like a volume icon)
If you are trying to create an account via browser, we also suggest disabling all browser extensions or VPNs you might be using, or try using a different browser/computer completely. Mobile may also work in some cases.
If this does not work from the Steam website, try the process from the launched Steam app after downloading the program here, if you haven't already done so.
I'm trying to reset my Steam password and have not received a reset email.
Jackbox support cannot assist you directly with a password reset as we have no access to Steam's systems. Please make sure to check your spam filter for the reset email, as well as checking the above tips to try doing the reset in a different browser or on another device. Steam also has tips on what to do if the email has not gone through: http://help.steampowered.com/en/wizard/HelpWithSteamGuardCode
If you're still unable to recover your Steam account, you will need to contact Steam support directly. Because this process can be awkward, we recommend this unofficial guide to assist you with images: http://www.wikihow.com/Contact-Steam-Support
I'm on a work computer and installing Steam is blocked.
Permissions to install Steam are at the discretion of your company's system administrator, and there isn't much we can do if your company does not wish you to install a program which can access games on a work computer. Many customers do in fact use Jackbox Games at work, and we're happy to relay information to your system administrator, manager, or IT professional if helpful. However, you may wish to install Steam on a personal device instead. If you do require a refund so you can purchase via an alternate method such as the Apple App Store, please refer to our article on how to request a refund for more information.
If you have a question not covered here and you are unable to find an answer in Steam's documentation, please contact us by opening a new support ticket or emailing support@jackboxgames.com.