Sometimes you may wish to purchase a Jackbox game as a gift for a friend, family member, or casual acquaintance but may not know which game(s) they like to play, or may already own. The Jackbox Games gift card to the rescue! You can load up a digital gift card with the amount of your choosing, and deliver it to the recipient via email. They're super easy to redeem in our online shop. This article will cover how to purchase, and how to redeem, our gift cards.
Please note: Jackbox gift cards, purchased from us, are only valid in our store for Steam code purchases. They cannot be used on other platforms, such as consoles. Additionally, gift cards from other storefronts are not valid in our shop; with the exception of certain preloaded debit cards.
How do I buy a Jackbox gift card for someone else?
1. The gift card product page is located here: https://shop.jackboxgames.com/collections/other-products/products/jackbox-games-gift-card. Note: if you are navigating from shop.jackboxgames.com instead, please make sure to click on the graphic or product title as shown below. Clicking "add to cart" from this page will automatically add a $5 denomination card. Simply increasing the quantity in your cart will place an order for six $5 gift cards, not one $30 card and our systems do not allow the use of multiple gift cards simultaneously at checkout. If you want any other denomination than $5, you need to click on the gift card image or product title link below the button.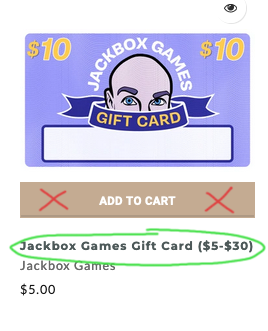 2. Use the pulldown menu on the product page to select the denomination you'd like for your gift card. The image on the left will update when you do this to help confirm the amount you'd like to put on the card. Make sure to read the fine print on this page: you will be receiving a digital gift card via email; nothing will be mailed to you. Also, it is not possible to refund gift card purchases, so please make sure to select the desired amount. Once you've confirmed, click "Add to Cart".

3. In checkout, make certain you've ordered the gift card(s) you intended by checking the "denominations" field on the left, which will show how much is on a given card, and confirm the quantity at right. For instance, if you wanted to buy $30 gift cards for two different people, you could do so here. Then, simply check out normally.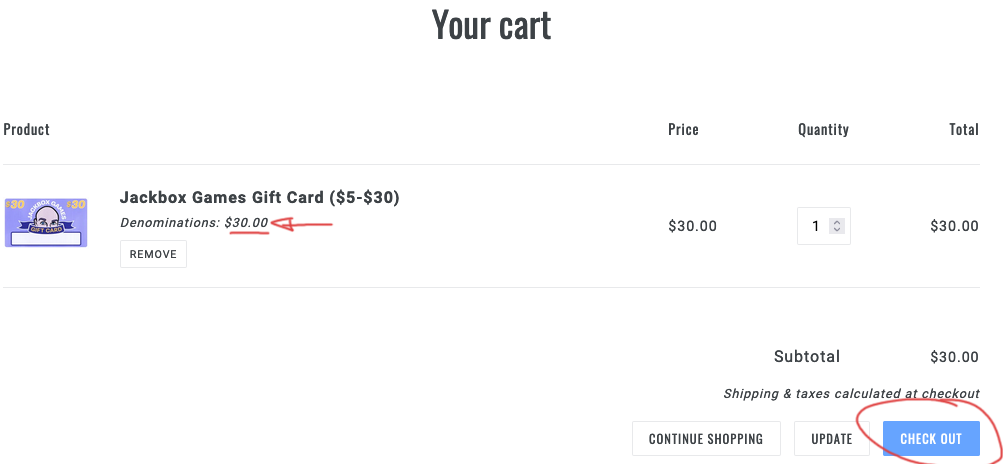 Congratulations on your Jackbox gift card purchase! You will receive your gift card(s) via email and can forward them to the recipient. If you've ordered more than one gift card in the same order, please be aware that they come as a threaded email. All your gift cards will arrive together.
How do I use a Jackbox gift card I've received?
1. Add any items from the site, like games or merch, to your cart normally. As with any gift card, if your order total is more than the denomination of your gift card, you will be charged for the difference.
2. Confirm you have the item(s) you'd like in your cart, then click "Check Out".
3. On the checkout page, you'll see purple text about midway down the page reading "Add a discount code or a gift card". Click on this text to open the entry field for your code.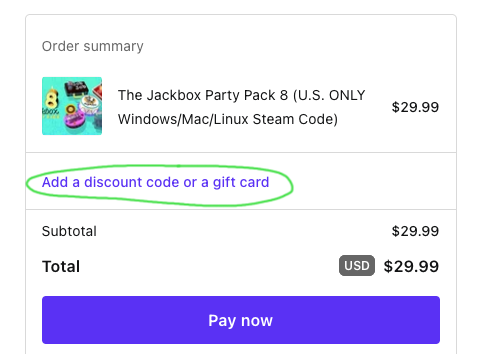 4. Enter the code from your email here, then click Apply. You'll see your total affected once the code is accepted. Please note: our systems do not support using more than one gift card simultaneously, or using a gift card and a discount code on the same order.

From here, you can check out normally!
I ordered a gift card, why didn't I receive it?
Please double check your spam filter to ensure the email did not get lost. If you still can't find it, it's possible your email address was entered incorrectly. If you're unable to locate a purchased gift card, please open a support ticket with us or email support@jackboxgames.com and we'll assist you.
My gift card isn't working!
Please make sure you entered your code correctly. Each code is unique. Also, if you've already used the field to add a discount code, your gift card will not be accepted. Please note as well that if your gift card was purchased on another platform, it most likely is not applicable on our shop (some debit style gift cards are generic and will work as if they are a normal credit card). If you're still receiving an error message, please contact us by opening a support ticket or emailing support@jackboxgames.com.
I want a refund on a gift card
We're sorry, but as stated in our refund policy and on the product page, gift card purchases are non-refundable. If you are a gift card recipient, this also means that your gift card cannot be converted to cash value, or for use in another marketplace.
I have another question or problem that isn't here, what should I do?
If your question isn't covered here, please open a support ticket with us or email support@jackboxgames.com.