Moderation is a game settings feature introduced with The Jackbox Party Pack 7. It allows human moderators to join your game and approve or reject content before it is shown on screen. We are hopeful this setting, along with the profanity filtering setting, will provide a little bit of extra safety when playing games with strangers.
Moderation is available for the following games in Pack 7:
Quiplash 3
Champ'd Up
Talking Points
And the following games in Pack 8:
Drawful Animate
Weapons Drawn
Job Job
The Wheel of Enormous Proportions (via a separate setting to turn off player-entered content, accessible normally via The Wheel's Settings)
(The Poll Mine does not have user-entered content)
And the following games in the Party Starter:
Quiplash 3
Tee K.O.
Trivia Murder Party 2
And the following games in the The Jackbox Party Pack 9:
Fibbage 4
Junktopia
Nonsensory
Roomerang
Quixort
To enable Moderation, navigate to your game settings menu and toggle Moderation on.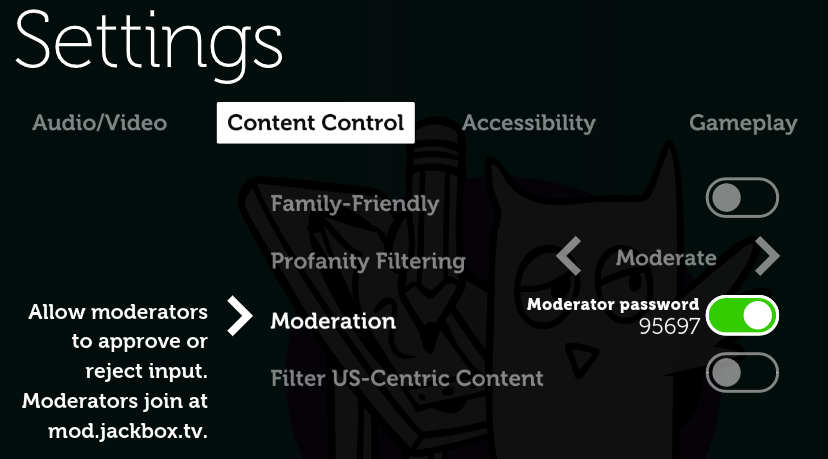 Once toggled on, a password code will be generated (you'll want to hide this from the public if you're streaming). You can then tell your moderator(s) to go to mod.jackbox.tv and enter that password to join the game. As long as that setting is enabled when the game room is created, mods can join at any point during game play. Any user generated content will now go to your moderator(s) for review before being approved to appear in game. Rejected answers will either be replaced by game provided content or appear as "no answer", depending on the game.
For The Wheel of Enormous Proportions specifically, please use the Allow Player Written Responses toggle to prevent players writing questions to The Wheel as well as removing questions with typed answers. Manual moderation is not required for this game, so that your moderators do not have to be logged in during multiple choice questions.

Available only in The Jackbox Party Pack 9 currently, you may now kick players from your games! By going to mod.jackbox.tv and entering the game's room code, someone in a moderator role has the ability to screen user-generated content before it ever appears. The kicking players feature will act as an extension of mod.jackbox.tv.
Using the moderator tool, you will be able to select players that need to be removed from the game. Once a player is kicked off, they will be denied access to rejoin the game if they attempt to.
We recommend pairing this with the "Require Twitch Login" setting. If Twitch login is required, the server will prevent a kicked Twitch user from ever rejoining that room. However, kicking players is specific to that room only. That means if the host creates a new room by starting a different game, the kicked player will have the opportunity to rejoin.
In the lobby, moderators will be allowed to kick any and all connected players from the game without restrictions. Even the first person who joins the room (the VIP). If the VIP is kicked from the game, another player will be given their designation and a slot will open up for someone else to join.
If the game has already started, we want to preserve any progress made in the game and make sure the experience is still enjoyable for everyone. This means moderators will only be allowed to kick players when the game is above the minimum player count and kicked players will remain in the game visually, but are disconnected and unable to rejoin or submit any new content.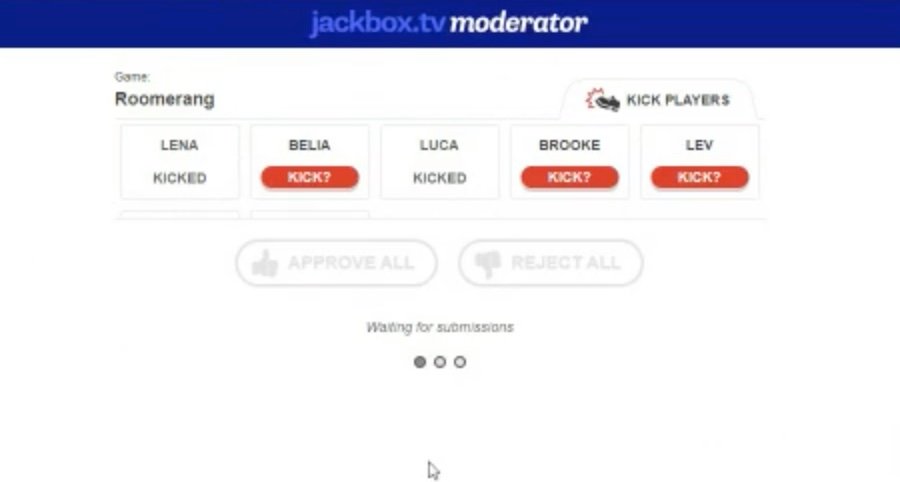 If you have any feedback on moderation and how we can improve this feature moving forward, please open a support ticket or email support@jackboxgames.com.